---
---
Features

:
Compact and Portable Size

Up to five stages of air filtration

Low electrical use, low maintenance

Quiet Operation

Variable Speed Controller

With high quality solid wooden box.

Stainless steel construction

No chemicals/ no residual contamination.

Energy saving, only consumes 43 watt power.

11.3 TRILLION negative ions generated per second
Package Includes:
Comes with 2 Ozone Plates

Washable HEPA filter

UV light and photocatalyctic filter

Power cord

Instruction Manual

COMES WITH A 3 YEAR WARRANTY!
BUY WITH CONFIDENCE
 


Specifications:
Power Supply:

12-15 kv power supply

110V AC/60Hz

120 cfm 12 volt DC variable speed fan

Size:

8.25" x 9.10" x 12.5"

16 lbs

Fan Speed and Noise Specification
| | | |
| --- | --- | --- |
| Low Speed | Medium Speed | High Speed |
| 70CFM | 100CFM | 150CFM |
| 32dB | 35dB | 45dB |
*CFM = Cubic Feed per Minute
*dB = decibel sound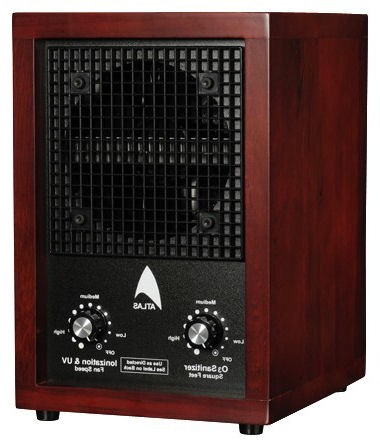 Description:
The RHO2 is a compact and power-efficient, five-stage filtration system equipped to rid the air of odors, bacteria, allergens, and dust.
The RHO2 oxidizes the air with its onboard ozone plates and negative ion generator to significantly reduce chemical gases, paint fumes, smoke and bacteria particles in the air by decomposing and eradicating contaminants.The UV light and photocatalyctic filter work together to neutralize molecules organic particles in the air which cause odors or could contaminate indoor air and aggravate allergies.
This compact and portable unit with its five stage filtration system helps kill bacteria with a UV light and a top-of-the-line HEPA filter that will eliminate pollen, bacteria, and create clean breathable air within a 3,500 sq ft area. It also comes with a washable HEPA filter for your convenience.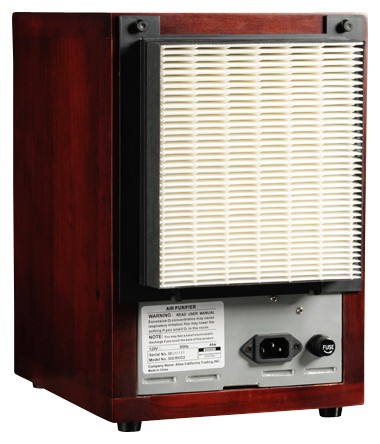 Compare for yourself and see the difference!
Comparison
ATLAS Washable HEPA AIR Purifier
OTHER BRANDS
Cabinet Quality

Solid natural hardwood, attractively stained.

Cheap pressed wood, laminate exterior. 

More Powerful

44W of Power

20W of Power

120% more effective!

Less powerful.

HEPA Filtration

True HEPA Filtration

No HEPA Filtration

Removes 99.97% of particles down to 0.3 microns in size, almost 300 times smaller than the width of a human hair.

Units rely solely on ions and ozone. Much less effective.

Ion Generator

More powerful generation

Less powerful

Creates more effective ionization.

Emits fewer ions.

3 Year FACTORY Warranty

Limited 3-yr factory warranty backed by a multi-million dollar company.

N/A online or at wholesale pricing

Plates and Filter  Access

Easy

Difficult

Remove the HEPA and plates slide in-out freely. No need to change the Hepa Filter (Washable)

Must remove back of unit and then insert hand to remove or install plates. Need to purchase new Hepa Filter!

Internal Components

100% Stainless Steel

Soft Metal

Will not corrode from ozone

Soft white metal that can corrode.

Chassis

Modular/Slide IN-OUT

Fixed

Superior quality design and

Difficult to clean and maintain

easy cleaning

 
---