---
---
One of the leading causes of accidents at night is that people can't see you. Here is an inexpensive solution to that problem. Improve your visibility while running or jogging from dusk til dawn. 
The Safe Steps Arm Band provides visibility when walking or running at night. The Arm Band safety lights operate in blinking or steady on modes and are available in 6 different colors.
LED Armband Jogging Light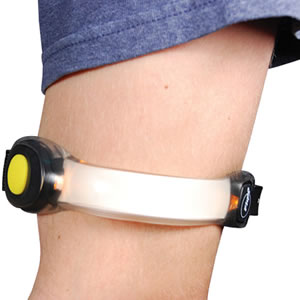 They're the perfect light for running or walking your pets at night too. Our armband lights operate on 2 CR2032 Lithium batteries (included and installed) and are ready to wear right away. Weather resistant.
Lasts for 55 hours on steady light mode and over 70 hours when flashing.
Great for Halloween safety. Wrap around your child's arm or attach to their costume so they will always be seen. The flashing pattern would even enhance some costumes.
Available In 6 colors: White, Blue, Red, Green, Yellow and Pink
Weather Resistant
Flashing and Steady On Modes
---